Can you wear cashmere in the summer?
We all know what cashmere stands for – warmth, cosiness, quality and wool so soft you can wear it against your skin. It makes the wool an obvious choice when looking for something to pull on in the winter as an extra layer or as a statement piece. But what about the summer? Is surely everything good about winter cashmere makes it a no-no for the summer, right? Well, one of the beauties of cashmere is that it's a real four-season fabric, and we'll tell you why.
Cashmere is breathable
Whatever you wear, there's always a balance between its insulating properties – how much body heat you lose when wearing it – and how much fresh air can get in while allowing stale air and moisture out. It's called breathability. The reason it's a balance is that it's the gaps between the threads that let the damp, warm air out, and that can also let cool air in, which defeats the object of wearing a jumper. On the face of it, it's like having a triple-glazed house and leaving all the windows open in the winter. But in real life, it's a little more complicated.
The threads in a cashmere jumper are knitted or sometimes woven so that the gaps between the threads are small. Zoom right in, and you'll also see there are thousands of tiny strands on each thread, which disrupt the flow of air enough to create pockets of warmth but not enough to stop the flow completely. Air flows both ways, slowly. Because the outside air isn't damp and sweaty, the net result is that you stay dry and fresh, as there's a lot more fresh air, but because it's slow, you're not losing heat.
So how does that work in the summer? You're generally going to get warmer in the summer for obvious reasons, but the air outside is also drier because of the temperature. So when the fresh air comes in, it'll carry less moisture, and the amount of moisture underneath the jumper will be about the same as in winter because you'll still be forcing damp air out.
On all the blisteringly hot days, you'll stay cosy without overheating. If you start feeling beads of sweat, maybe it's time to change, but for general wear, you'll be surprisingly cool and dry.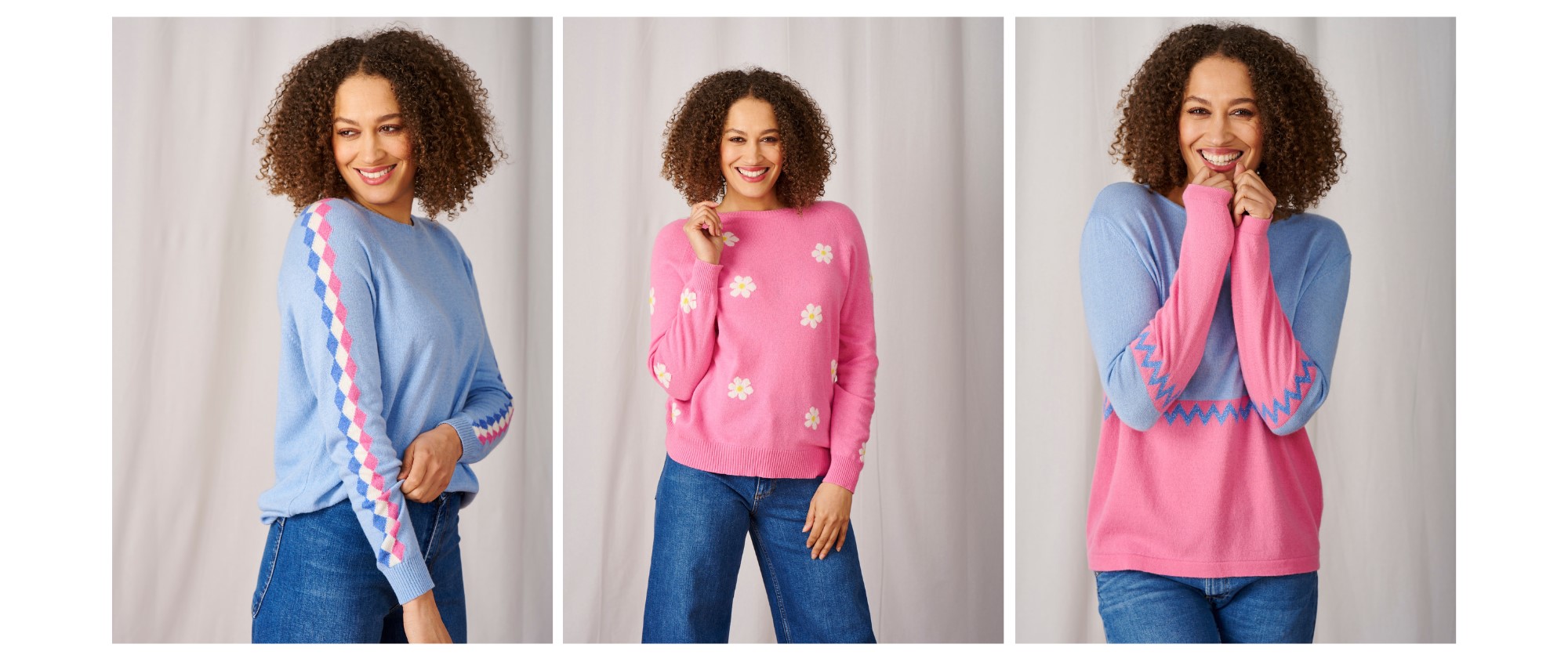 It's perfect for layering.
When it comes to staying comfortably warm in the summer, everyone has different thresholds of what they can wear. While some will be happy in a vest top, others like to be more covered up and need more insulation than others. But for many of us, it changes from day to day, hour to hour. We don't know how hot or cool we will be in ten minutes!
Layering is the time-served solution to this dilemma. You can carry extra clothing or a bag to tuck away when you need to cool down. The problem with layering is that it's hard to know exactly what to take out, and you still want to look fantastic and feel confident.
With cashmere, those issues are put to sleep. Because it's a naturally light type of wool, it's easy to carry around with you in a shoulder bag or backpack, so you're never overburdened when it's too warm to wear. It folds up easily and keeps its shape well if you don't overstretch it and screw it up too tight. And when the sun goes behind the clouds, but it's still warm, or if the sea breeze picks up, you can slip it on to take away the chill, and you'll stay cool because it's breathable.
Wear it over a simple T-shirt to keep your silhouette sleek and summery, or choose a long-sleeve top if it's a little cooler. Alternatively, wear the soft cashmere against your skin and layer up with a light jacket or blazer when the need arises – this is a good option if you're dressing for work or a summer wedding.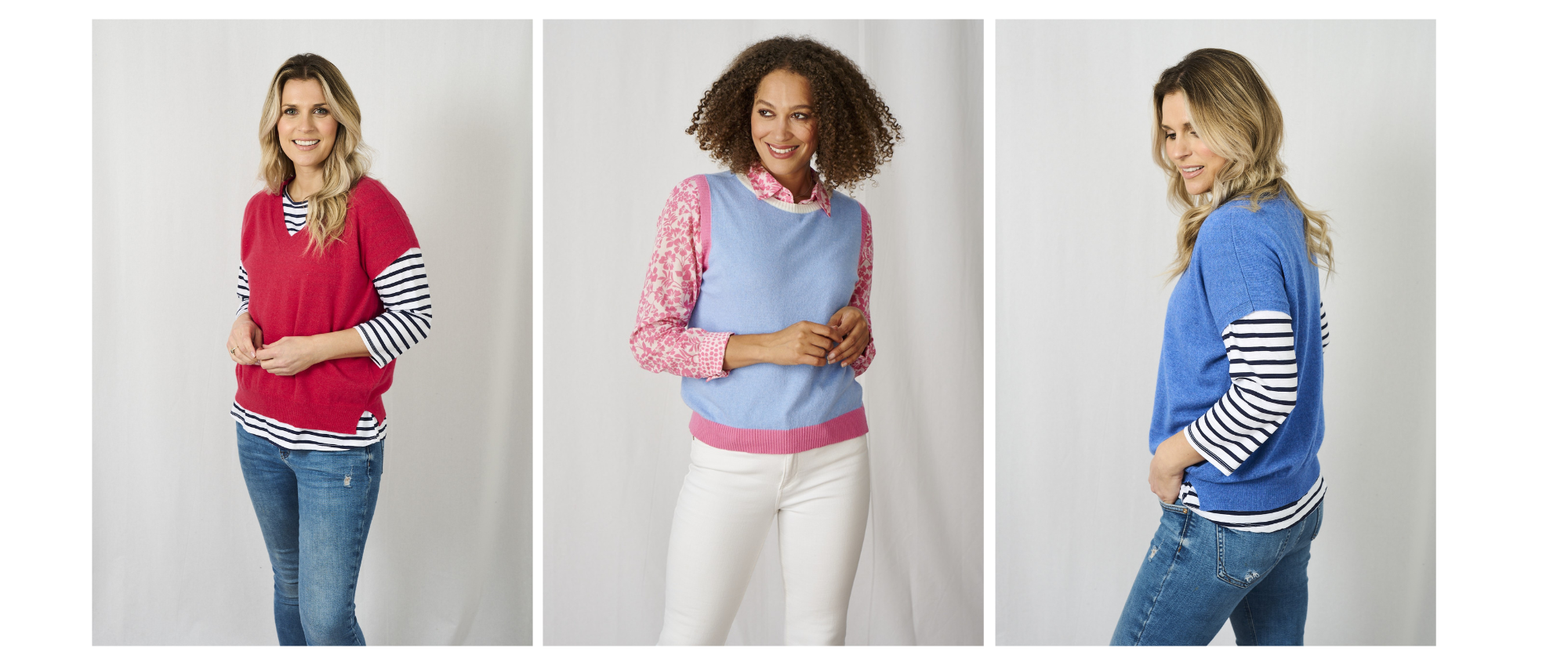 Plenty of styles to choose from
"Cashmere" doesn't automatically mean "jumper". You can opt for a beautiful flowing wrap, which has summer written all over it, and you'll stay comfortable without worrying about overheating on the hottest day. A cashmere cardigan is also a neat option for changeable days. Wear a light top underneath it; you can button it up or hang it lose, depending on the temperature.
A breezy cashmere tank top is another wonderful choice for the summer – you can wear it as it is or layer it over a long-sleeve top or shirt for just the right summer feel. If you do love a jumper, choose one with a lower V-neck for the summer months. You can wear it on its own and stay wonderfully cool. Just remember to slap some factor 50 on your décolletage!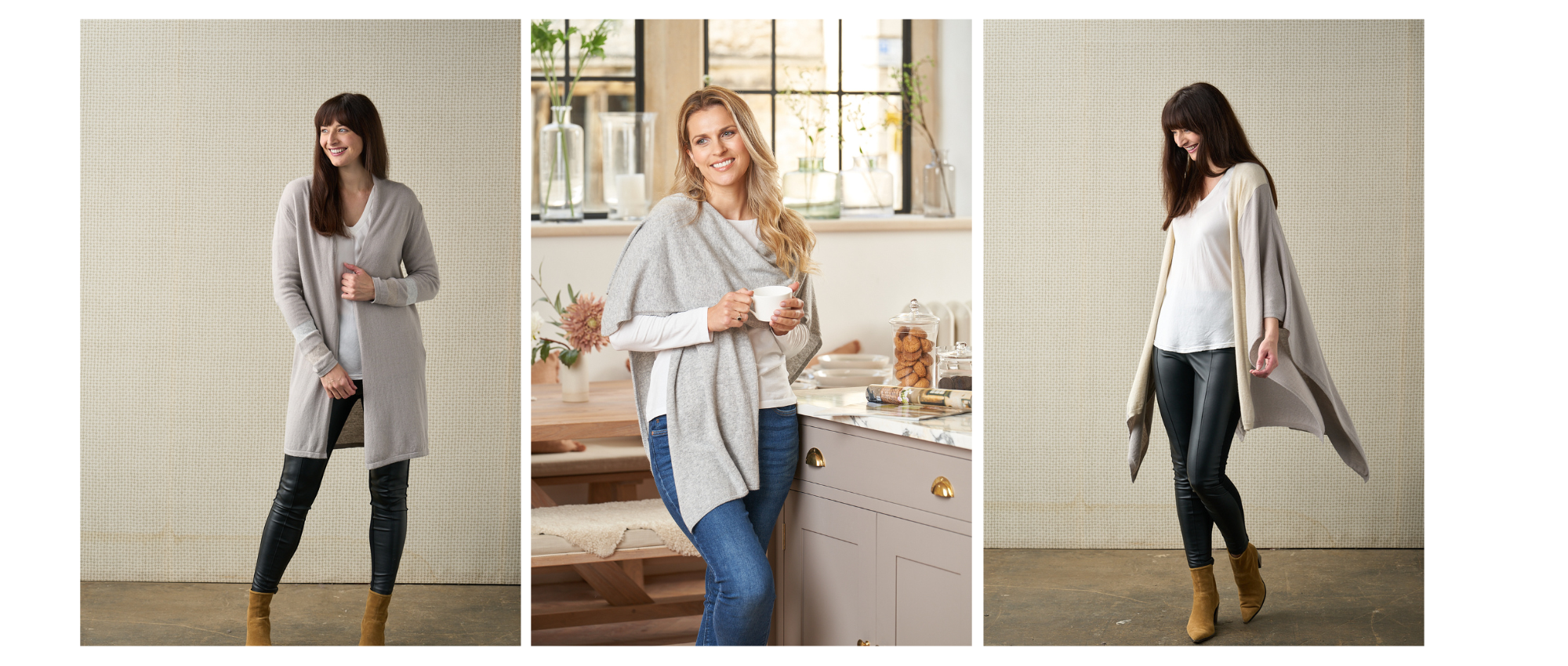 Different knits mean different weights.
If you want to have the cashmere style and comfort but want something light and breezy for the summer, you can look around for a jumper that has a loose-knit. Avoid knits like cable or chunky, as they add volume and, therefore, insulation, which is probably not what you want when it's 30 degrees outdoors. A lace knit is about as airy as you can get, although you'll certainly have to wear something underneath, at minimum, a vest, bra or bikini top.
There are other types of mesh knit that are opaque but noticeably light, but there are hundreds of specific types. If you're shopping in the high street, have a feel and gauge how light the jumper is. Online, you can get a good idea by zooming in and seeing the stitching or reading the product description.
The type of yarn also makes a difference. Yarn goes from 1 (superfine) to 7 (jumbo); the lighter it is, the cooler it will be. Anything below 4 (medium) should be fine in the summer – once you're in the higher range, your jumper could feel too heavy for a warm day, whatever style it's in. If in doubt, ask the vendor.
It looks light and elegant.
Summer style follows one of two patterns – a slim, body-forming silhouette or a long, exuberant, billowing look achieved by a sarong, pareo or such like. Where does cashmere fit into those options?
The beautiful thing about cashmere is that it keeps its shape well, making it perfect for a well-fitting jumper that hugs the body. As we've mentioned above, there's a host of styles, knits and weights to choose from, so you can still take advantage of cashmere's wonderful structure to choose exactly the look you want for the summer without compromise.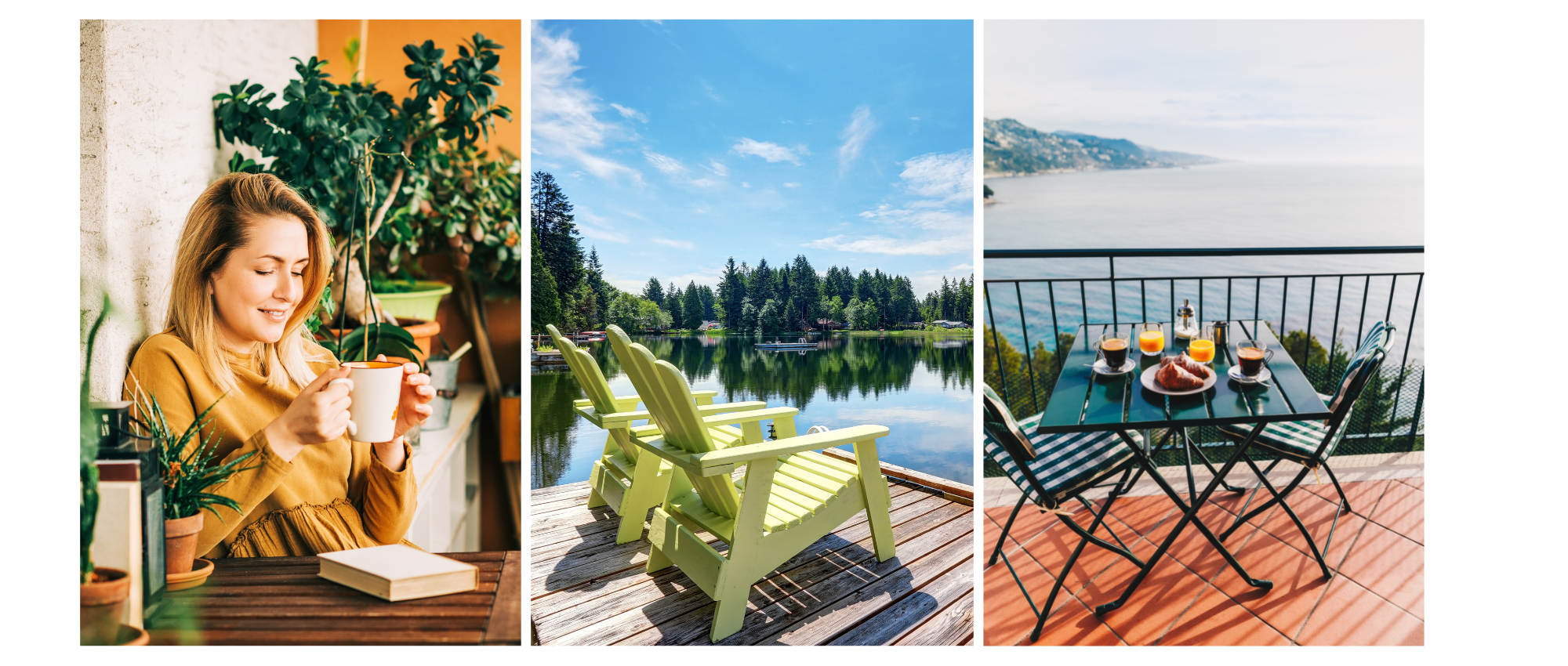 Summer isn't always hot.
A final consideration is that if you live in the UK especially, there's no guarantee that summer isn't going to crack the flags! We might not get heat waves like 2022's searing 40-degree experience, and most of us are thankful for that. But even throughout an average British summer, it's not unusual to have the odd day where the centigrade is down in the teens.
Additionally, mornings can still be pretty cool, especially in the shade, so if you like coffee and orange juice on the terrace for breakfast, a cashmere layer is perfect. At the other end of the day, the thermometer can take a plunge too. You'll notice it more by the sea, when the evening breeze kicks up, and when you're on high ground in the Lakes or the Highlands of Scotland. It might well be the height of summer on the calendar, but there's still plenty of variation over 24 hours.
In other words, don't pack away your cashmere tops just because it's June – you will still be able to get plenty of wear out of them, so keep them handy throughout the summer.
Cashmere – wool for all seasons
Are you still associating cashmere with roasting chestnuts and Christmas shopping trips? Hopefully, we've shown you that this natural wonder fabric is much more versatile than that. With good choices of style, knit and weight, and by layering up as and when you need it, there's no reason why your favourite cashmere top can't be part of your summer wardrobe.
If you want to know more about cashmere and where it comes from, we've written a guide that covers everything you need to know, from its history to caring for it. At Luella, we love everything about it. Because we have a rigid approach to sustainability and stewardship, you can be sure that our cashmere jumpers and cardigans are as ethical as they are beautiful.