How to wear sequins (and what to pair them with)
What springs to mind when you hear the word sequins? We are pretty sure that for most people, it'll be glamour, glitz and partying late into the night.
While it's certainly true that a few sequins can turn the most everyday top into something that really turns on the glam, they can be more subtle, if that's what you're looking for.
We're taking a dive into the world of sequins, and we hope by the end you'll be looking forward to getting some shimmer in your daily life as well as your nightlife.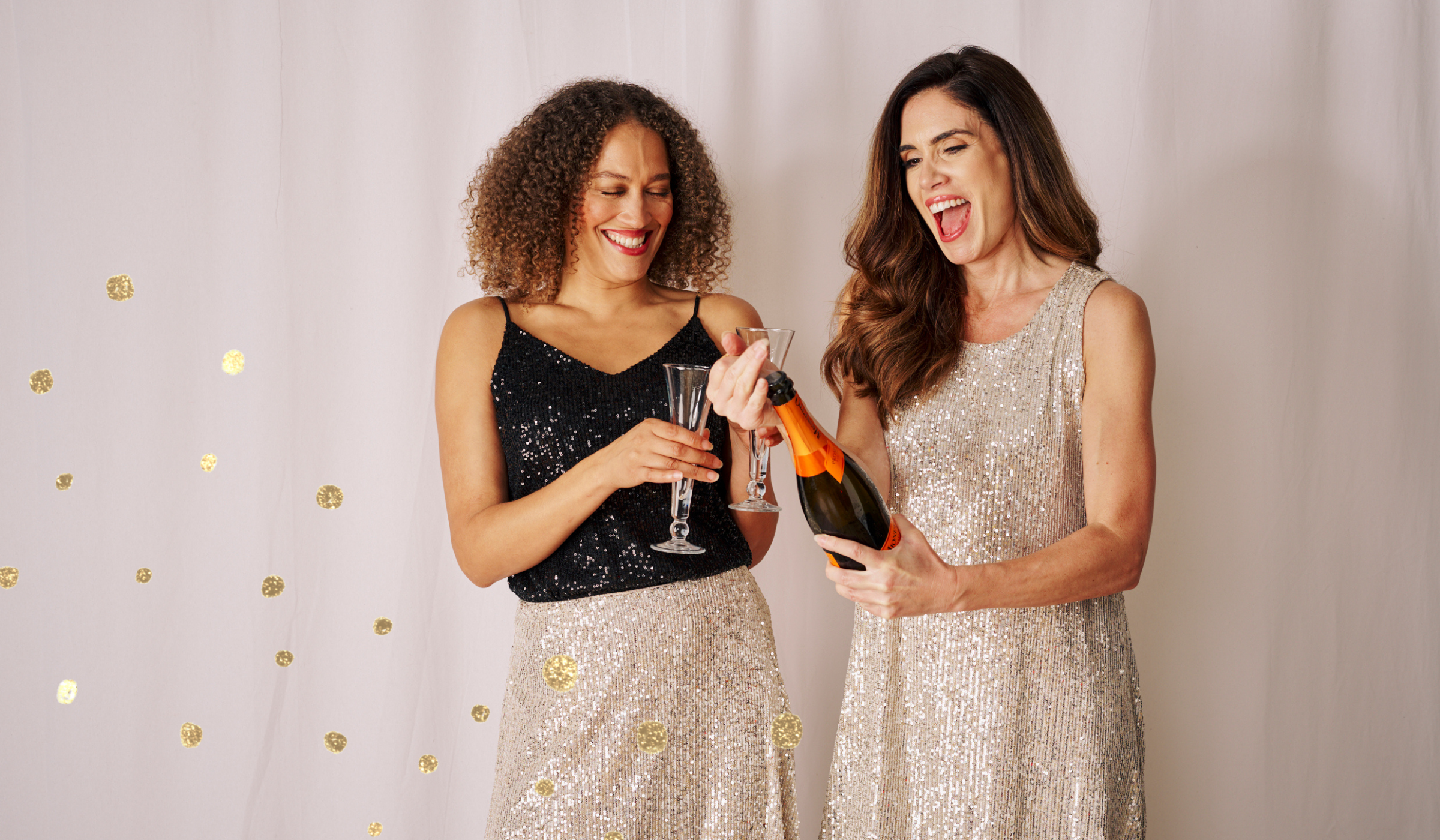 All about sequins
When you think of an individual sequin, you're probably thinking of a shiny disc with a hole in the middle, about half a centimetre in diameter. That's the type of sequin that is most used, as it's a good size to make designs without being too fiddly for the hand and the needle.
The word sequin actually comes from the Italian word for a type of shiny coin dating back 800 years, and it's the perfect name for this embellishment, although some people know them as spangles or paillettes, too.
Often, a whole area of fabric is covered with sequins, and they shimmer as the fabric moves and catches the light from different directions. But they can also be arranged like pixels on a screen, or stitches in a tapestry – that is, they can be made into images or geometric patterns by alternating between different colours. That makes the small size perfect for decent detail and plenty of shine.
There's no real standard size for sequins, though. They can be tiny, to make flowing, luscious patterns, or they can be large, up to a few inches in diameter, to give a look like the scales of a fish, or some kind of automaton.
Another fascinating use is reversible sequins. Here, they are sewn into the fabric to form a kind of hinge, so you can push them in one direction to change the colour and push them the other way to change it back. It has proved popular on children's clothing as well as cushions. You can have a witty or cheeky message that only reveals itself when the sequins are pushed one way, and that has meant there's a market for them in adult clothing too.
Finally, sequins can be used more sparingly to emphasise a small part of a garment, in the form of highlighting or a decorative motif. They can also be sewn into a garment in a beautiful pattern, with organic or geometric designs taking the place of a print or embroidery, but with a little extra wow factor.
So when it comes to fashion, there isn't a simple definition of what sequined means, and that's a brilliant place to start looking for style guidance. Here are some of the most interesting and impactful ways to wear sequins.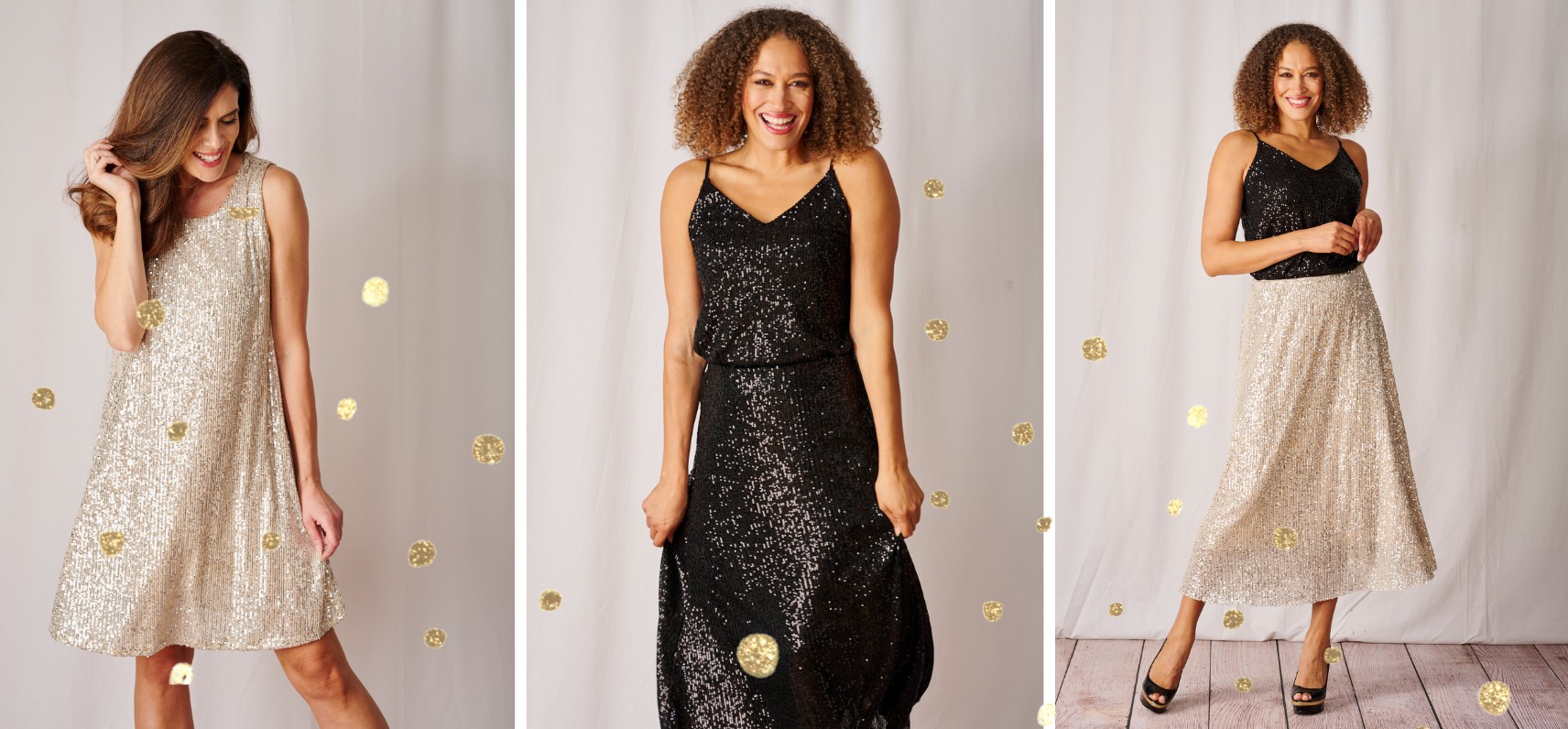 Create a wow
At the other end of the scale, you can completely push the boat out and cover yourself in these fiery delights. The catwalks have recently seen dresses and long skirts completely covered in large sequins that really bring out your inner mermaid.
Some of the braver fashionistas have stepped out in skirts literally made of sequins, held together with the lightest of mesh in the back. Now, this isn't something you'd wear to keep away the winter chill, but it's not as over the top as it might seem as it's only sparkly when there's direct light on it – the rest of the time it creates more of a sheen that comes to life when you move.
A sequin skirt tends to work best with a close-fitting top and blazer, and heels or knee-high boots on your feet to give an element of glam and balance the sparkle. You'll soon get used to admiring glances, and people asking where you shop.

Sequined details
If you're after a subtle look for everyday wear, you should keep the sequins visible but unobtrusive. The idea is to just create the odd sparkle as you move, rather like wearing a diamond ring (but with a couple of zeroes off the price tag!).
The look really works well with knitwear, as sequins can be sewn into the garment in small arrangements, such as a motif on the chest or a ring of sequins going around the collar or cuffs. A particularly subtle look can be achieved when the sequins are the same colour as the knit. You'll still get the sparkles when they catch the light, but will be almost invisible in the shadows, which makes for a truly dynamic top.
Simply wear your jumper as usual with jeans, leggings or a skirt. The sequins aren't the main event here, so you can really tone things down and treat them as sparkling accessories.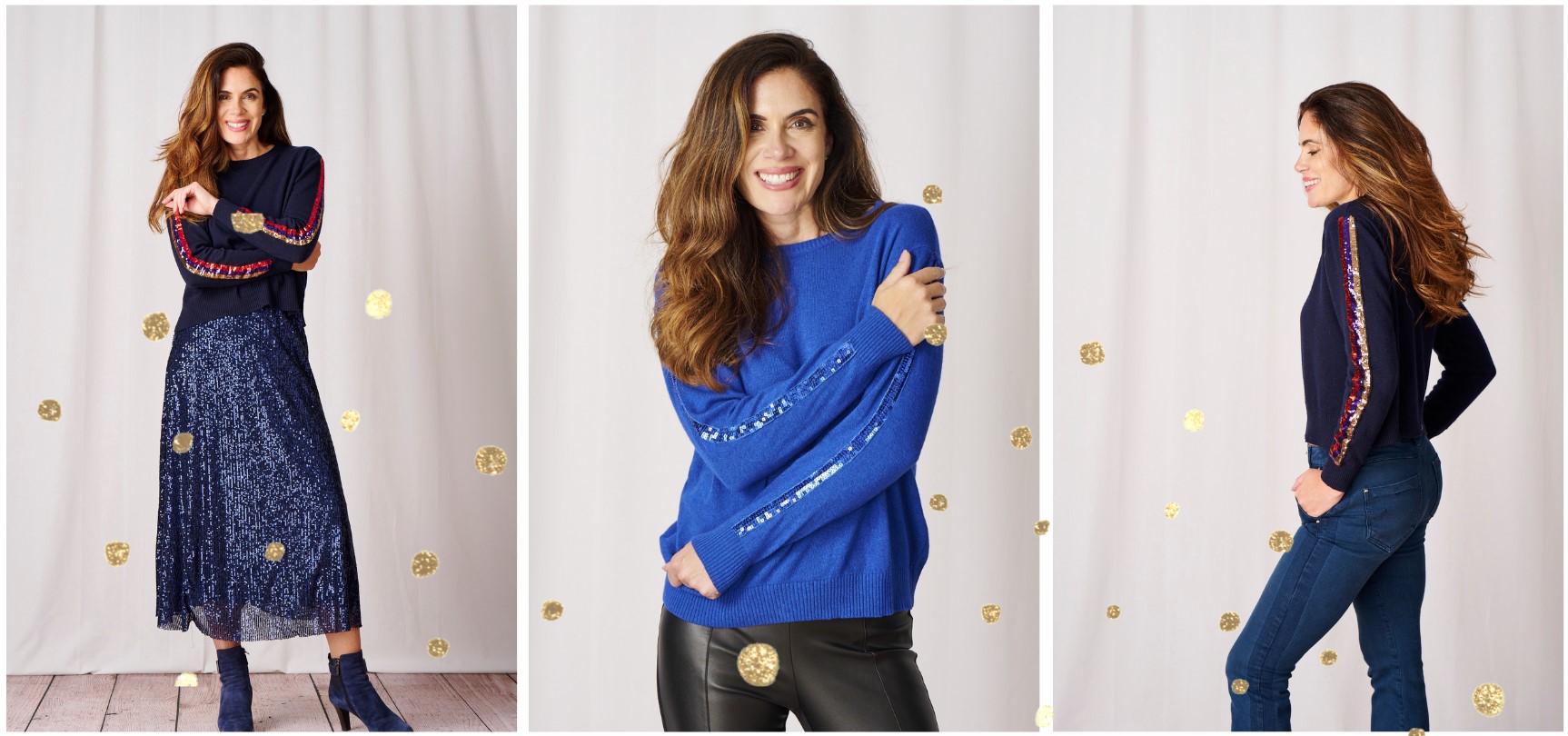 Ready to party
OK, now we're in the sequin's natural habitat, the dance floor and the celebration. It could be a friend's wedding, the office Christmas do or just one of those nights out that just happens on the spur of the moment, but it's always good to have something airy and spangly to pull on for when the lights are flashing and the laughter is infectious.
A whole range of tops can bring sequins to the party. If you're really going wild, a vest with sequined details is sure to catch the lights and you'll be able to dance all night. A pair of skinny jeans and heels or your favourite dancing shoes complete the look. Covering up a little, a T-shirt fits the bill instead of the vest, and it's a perfect canvas for a really bold design made up of sequins, whether it's a silver heart, some bold stars or a wide row of sequins breaking the T-shirt in two.
Even a light sweater might work in some party situations, especially if it's part of a night out that includes a meal or a standing event.
Try to steer clear of heavy wools for obvious reasons, but you can certainly turn on the sequins with a cotton knit jumper or even a light cashmere. Subtlety would probably work best here, so go for a sequin pattern that's a little more understated – this time they'll be catching the light in more subdued situations, so it's nice to emit a little flicker every now and again rather than dazzling the person you're talking to. A long skirt or trousers will work with this look, and you can accessorise with a silk scarf or headband to keep it real.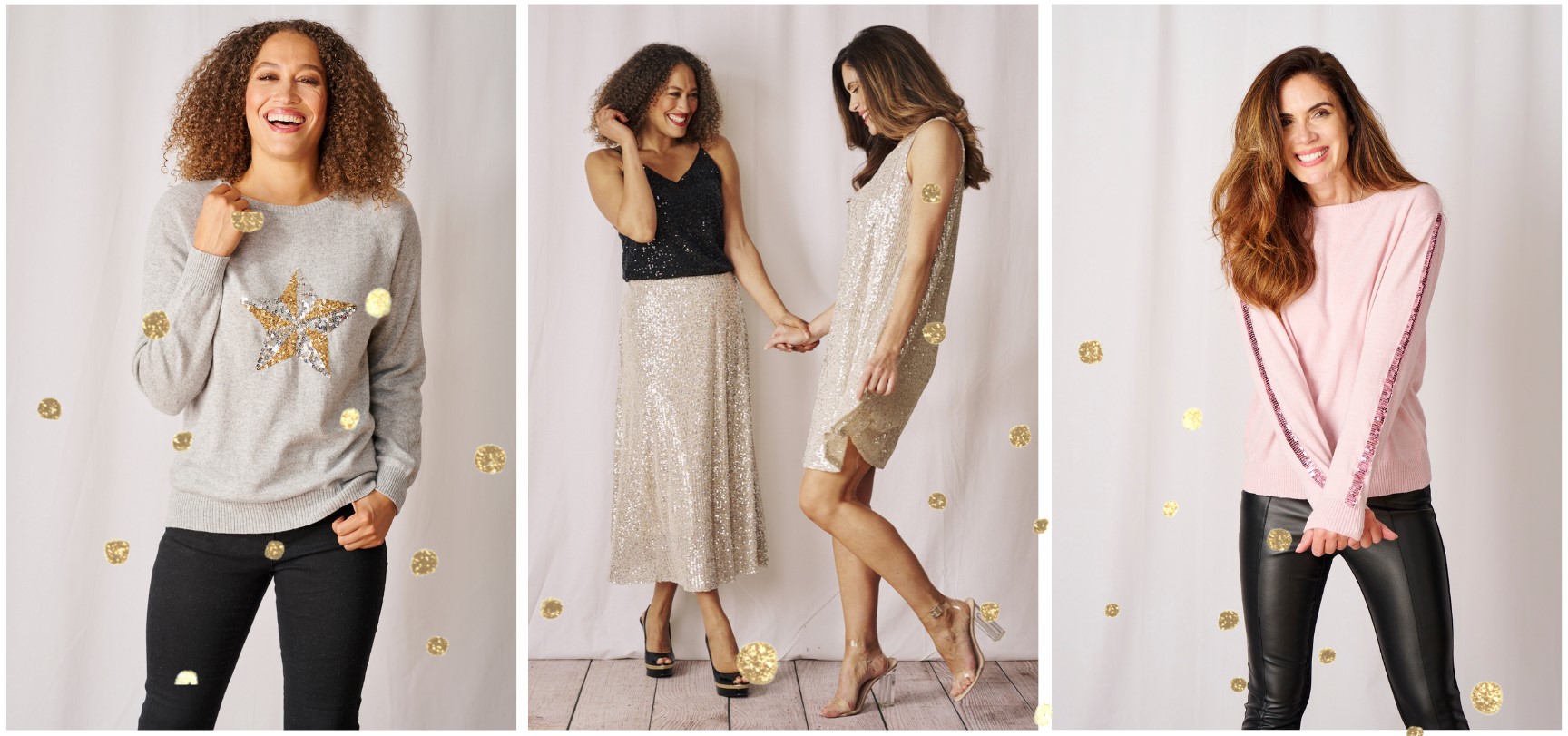 Catch the sun
Sequins might be most at home under the bright lights of the club or party, but you mustn't forget the brightest light of all – when it makes an appearance in the UK, that is. Those sunny days are simply the perfect opportunity to bring out some reflective detailing; you'll be doing your little bit to spread the happiness that'll fill the air.
Don't just think this is a summertime phenomenon, either. On those autumn and winter days when the sun is dazzling but low in the sky, you'll probably be wearing a chunky knit to keep the chill off your skin on those crisp walks in the countryside or touring the Christmas markets. Heavy knits don't always suit sequins as the poor little things can get lost in the terrain, so if you're looking to sparkle, you should do it with your accessories. A sequined scarf or shoulder bag could be all you need, but don't rule out sequins decorating your skirt or trousers – it's subtler, but they'll still do their job.
In the summer, though, your party gear will probably work just fine of course. Give that sparkly vest or tee a new lease of life by showing it off under the blazing sun as you head to the beach or the barbecue. You'll be the best judge as to what goes with it, but whatever you're comfortable wearing in the sun will be just fine, whether that's shorts, a light summer skirt, jeans or canvas pants with trainers. The point is that you're going to sparkle, and that's all that matters.
Sparkle your way
Whether it's all over glamour or some subtle highlights to draw attention, sequins are all about fun, brilliance and imagination. There are no rules here – you can pair them with casual clothing or use them when you're dressing up, as accessories or as the main event. Now, go out and dazzle 'em