&nbspDesigned in Great Britain | Made in Italy
[email protected]
+ 44 (0) 1454 238940
Our favourite knits for spring
During the transitional time between autumn and spring, we still look for layers of much-needed warmth. But knitwear need not mean basic rollnecks and jumpers designed to blend into the background. Indeed, as we step into the brighter spring months, there's an opportunity to have fun with bold colours, interesting textures, and playful pointelle designs.
If you want to know what knitwear we're loving this season, then look no further than this knit list, featuring six of our favourite jumper and cardigan styles: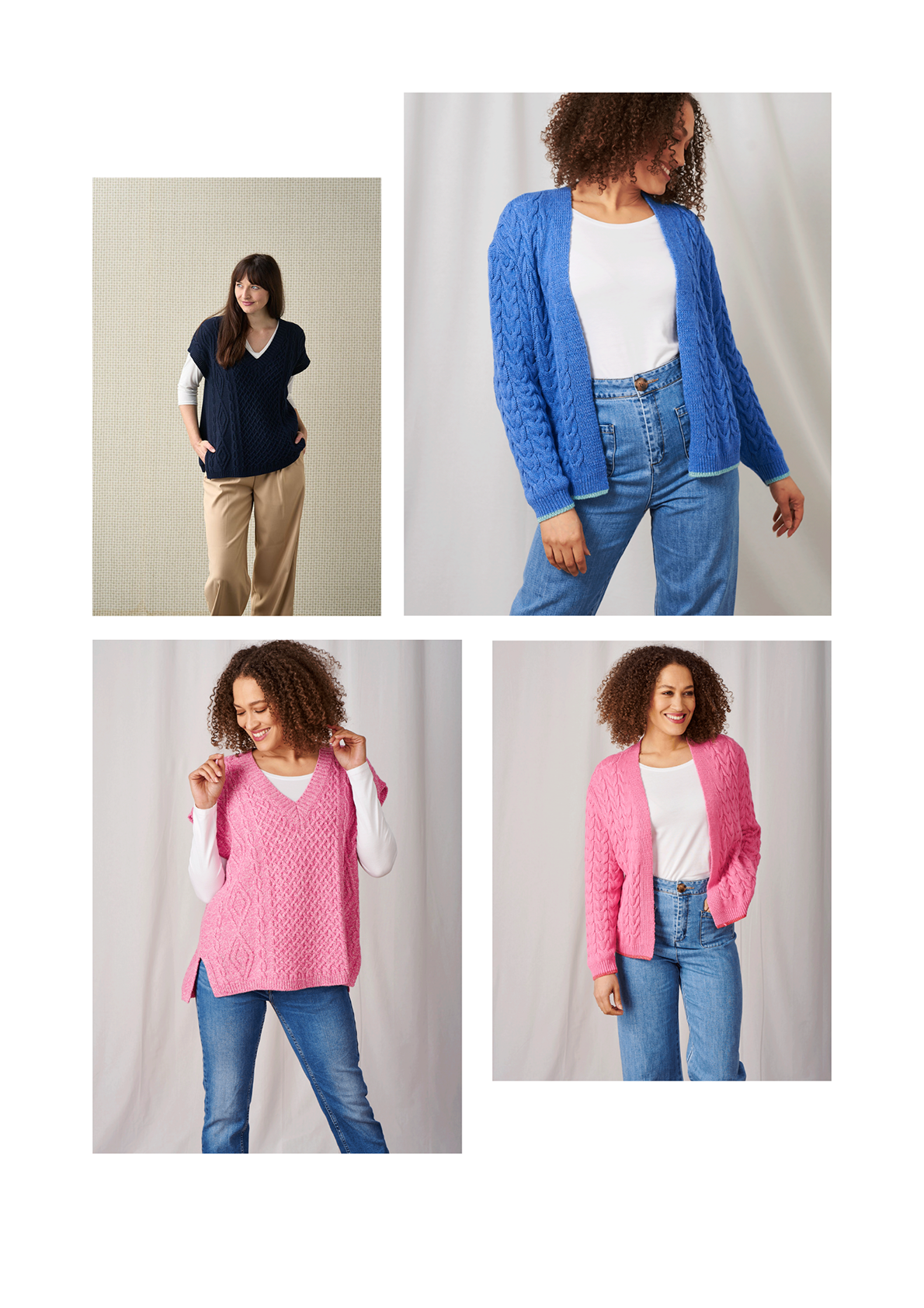 1. The Cable Guys
If you're looking for a jumper or cardigan that will live on season after season, a well-chosen cable knit is your match. Beyond beating the chill, the joy of a great cable knit is its versatility – you can wear it with just about anything (from a spring dress to your favourite pair of lounge pants). It's the perfect layering piece and adds texture and interest to an outfit. Happily, we've plentiful variations in our spring collection, including our new cable knit cardigans with gorgeous lurex edging, and our oversized cable knit tank tops. Neutral hues are the obvious choice for those seeking longevity, but one of our colourful cable knits can be fun too.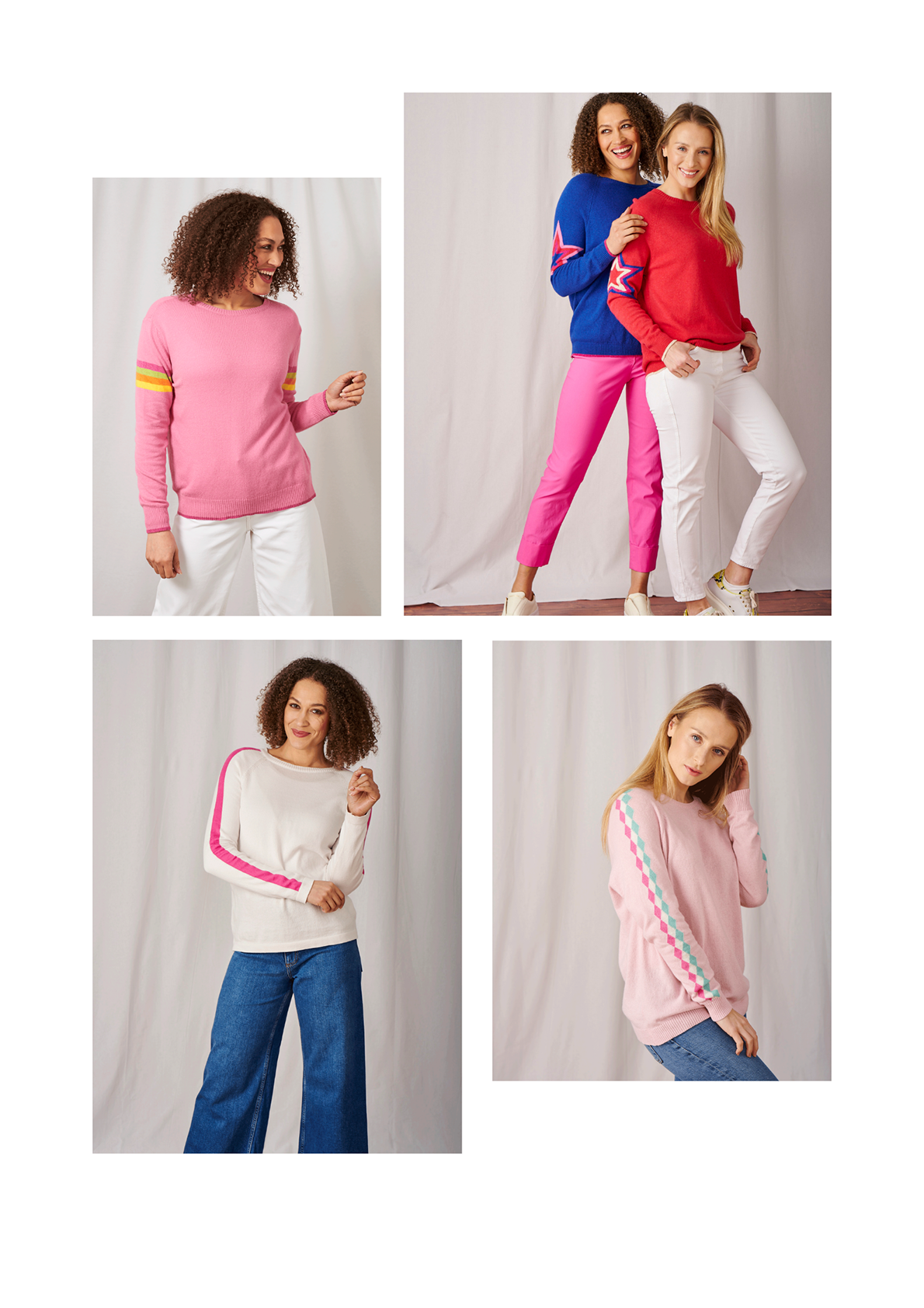 2. The Arm Detail Knit
Jumpers with a statement detail along the sleeve are popular this season. Whether it be lace, stripes, or a striking star design like that on our Stella Star Arm Jumpers, there are so many ways to add a little flair. Our Tiffany Jumper features three rows of striking multi-coloured diamond shapes on the sleeves – creating a gorgeous stripe effect, while our best-selling Lindy Jumper now comes with a touch of lurex sparkle and features lovely multi-hued stripes. Sporty-looking details are also a hit this spring, such as those in our Cassie and Gabby Jumpers. A big pop of colour can come from the on-trend contrast stripes running down the sleeves.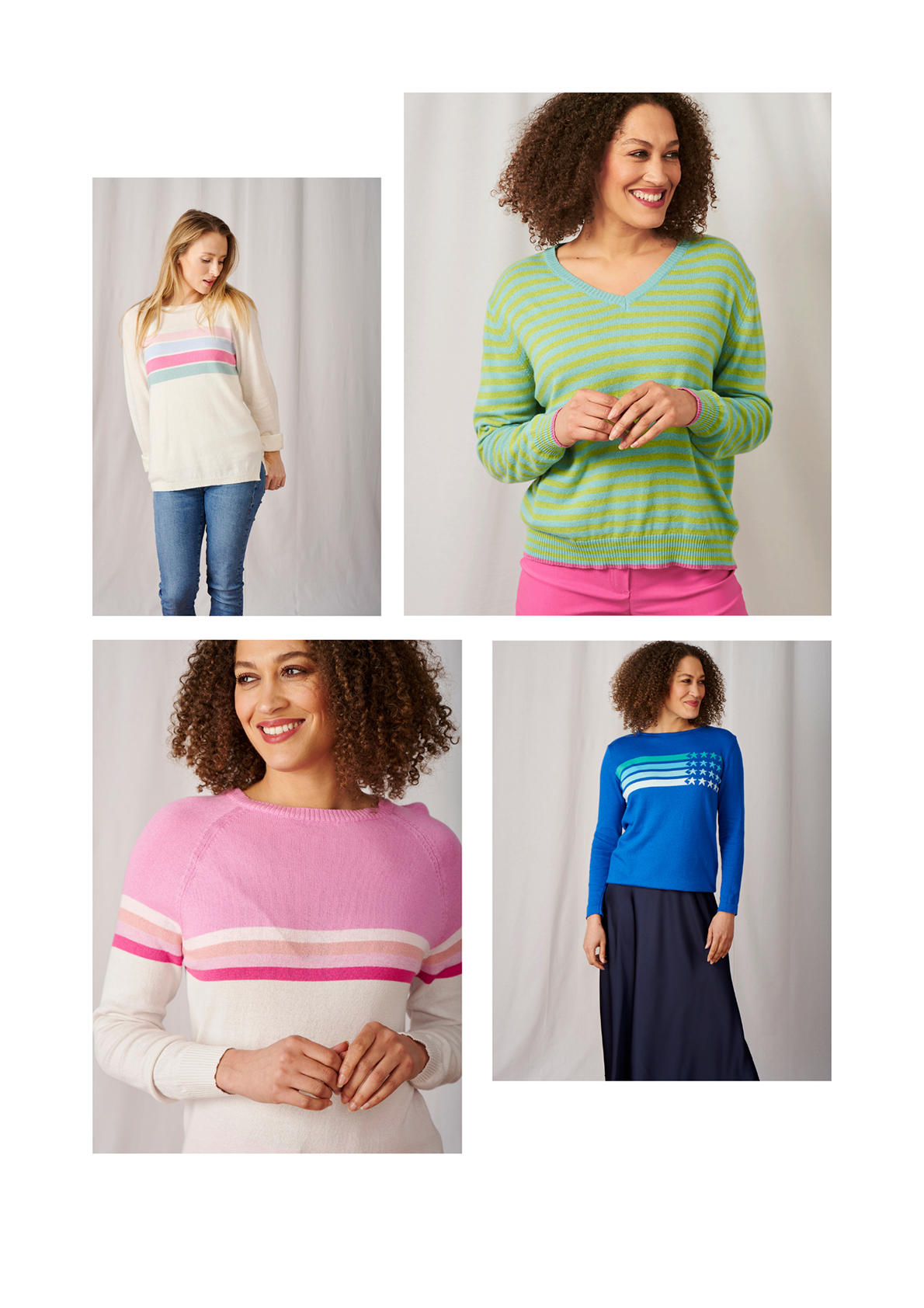 3. The Striped Jumper
Stripes rarely go out of style, but right now striped jumpers are having a real moment. Timeless and stylish, striped knits of all colours have played a key part in our collections over the years. This season we have the Phoebe Jumper with its rainbow of multi-hued stripes and stars, the beautiful Isabella Cotton Jumper featuring tonal pink or blue soft stripes across the chest, as well as our new Sorbet Striped Jumper, which features bold stripes in gorgeous sorbet hues.

4. The Colour Block
Whether it's a cardigan, jumper or a dress, there's a colour block 'it' knit for everybody. Brighten up your day with our Juliette Colour Block Cotton Jumper, or for an instantly wearable knit, the Remi Jumper is a firm colourful favourite. Colour block knits will inject a dose of the feel-good factor into your wardrobe. From bolshy brights to pared-back pastels, these happy knits add a splash of fun.

5. The Lurex Knit
Perfect for day-to-evening wear, lurex knits offer a hint (or more) of sparkle. From our best-selling Liv Jumper to the bold new Imogen, our lurex knitwear collection is feminine, glamorous and perfect for dressing up or down. New to the collection are also our Lurex Classic Star Jumpers, which have been spun in gorgeous denim and lime metallic colours.

6. The Pointelle Jumper
Pointelle jumpers are breezy for spring/summer. With on-trend open stitch designs, they are delicate and add a touch of femininity to an outfit. Cute and quirky, our cotton pointelle star and smiley face jumpers offer a much-needed shot of colour. They're knitted in the happiest of hues and perfect for spring!
What is your favourite knitwear style this season? We'd love to see your Luella spring knit looks! Tag us on Instagram @luella_fashion or Facebook @luellafashion.